Naya Shakti to unite with Federal Socialist Forum-Nepal soon
Baburam Bhattarai-led Naya Shakti Nepal and Upendra Yadav-led Federal Socialist Forum-Nepal on Friday have begun the process for party unification just after a day of merger of six Madhes-based parties.

Issuing a joint press statement on Friday, NSN and FSFN have informed that a 'Party Unification Coordination Committee' has been formed for the merger process. The Committee also includes a senior leader of Federal Socialist Party Ashok Rai along with two leaders.

Madhesi Janaadhikar Forum-Nepal led by Upendra Yadav and Federal Socialist Party of Ashok Rai had merged in June 2015 to form Federal Socialist Forum-Nepal. Meanwhile, Baburam Bhattarai had quitted Maoist party to form Naya Shakti Nepal, issuing a press release last September.
Both the parties are currently launching their protest programs. NSN is staging demonstrations, demanding election symbols for the local election slated for May 14, while FSFN on April 16 had announced protest programs, stating that the new constitution amendment bill registered by the government is incomplete and full of flaws.

Meanwhile, Six Madhes-based parties--Tarai-Madhes Democratic Party, Sadbhawana Party, Tarai-Madhes Sadbhawana Party, Rastriya Madhes Samajbadi Party, Nepal Sadbhawana Party and Madhesi Janaadhikar Forum-Democratic-- Thursday afternoon unified to form Rastriya Janata Party.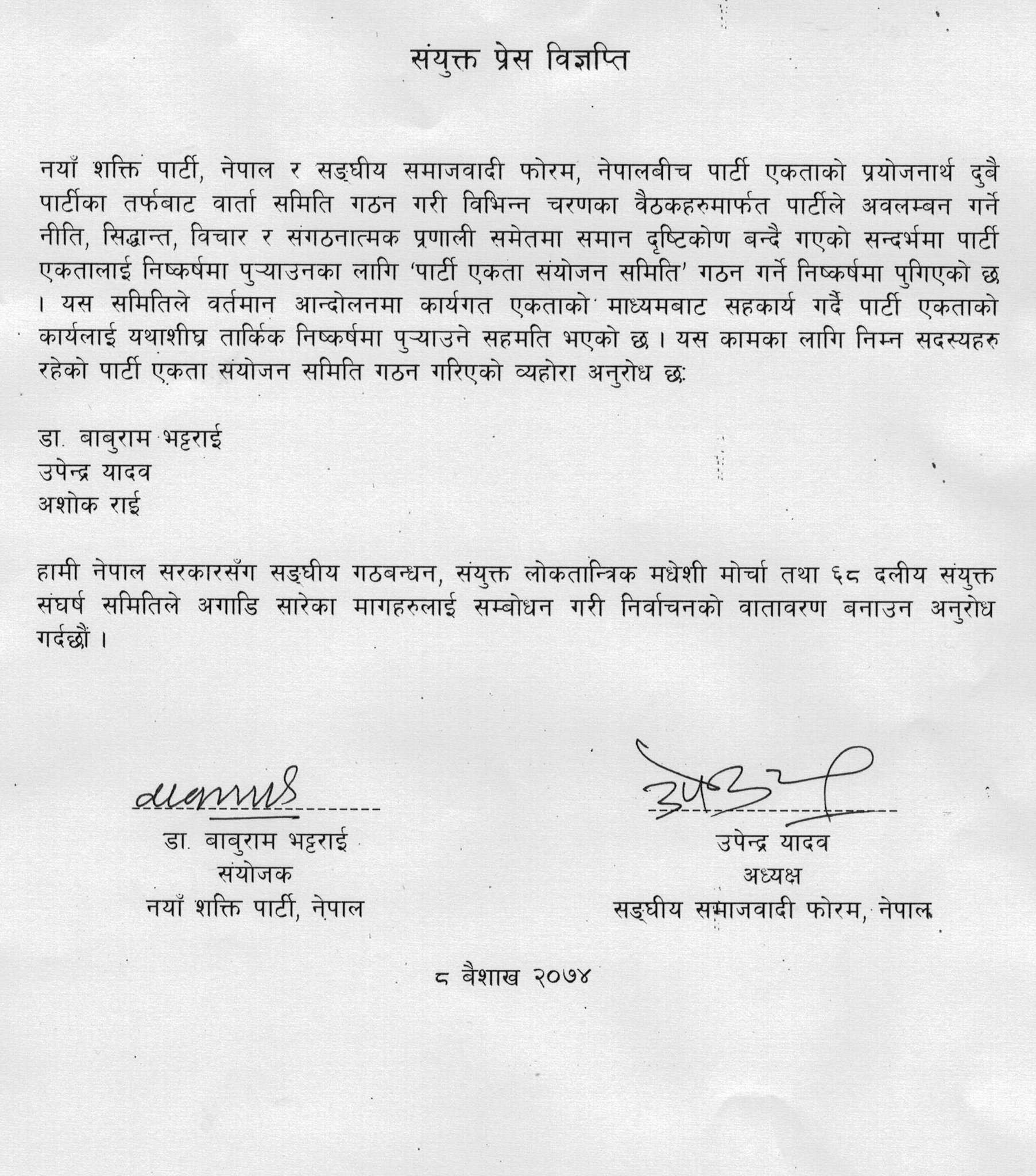 Comments
More News
Popular
Recommended
Suchanapati